With Comet Neowise making its appearance in the night sky these past few days, many of us have been looking up toward the stars. That's also what this month's featured Woman of Discovery did before her untimely death in 2003 aboard the space shuttle Columbia. Kalpana Chawla (1962-2003) was an American engineer and NASA astronaut, and was the first Indian-born woman to ever go to outerspace. She was passionate about flying from an early age, and this passion eventually led to her career as an aerospace engineer and astronaut.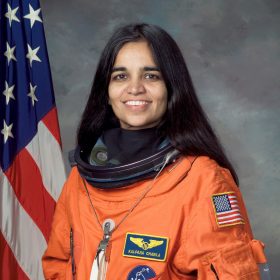 She began on her educational journey with a bachelor's degree from aeronautical engineering from Punjab Engineering College in India, and then moved to the United States where she pursued three more degrees: a Master of Science degree in Aerospace Engineering from the University of Texas at Arlington, plus a master's degree and PhD in aerospace engineering from the University of Colorado Boulder.
Her career began at the NASA Ames Research Center and a few years later she became a naturalized American citizen at which time she applied for and subsequently joined the NASA Astronaut Corps which put her on the path to space travel. She took her first mission into space in 1997, where she spent more than 15 days on the spacecraft before returning to earth. Her second mission was in 2003, and she and other crew members conducted experiments and research during the two-week deployment. Unfortunately, upon reentering the earth's atmosphere, the Columbia was destroyed. Kaplana and her six crew mates all perished. 
Kaplana has received a high number of awards, honors and recognition for her work, both during her lifetime and posthumously. Just a few of the notable honors include an asteroid named 51826 Kalpana chawla, NASA named a super computer after her and a hill on Mars also bears her name, along with several other buildings, facilities and monuments around the world. Our small tribute to her, with a street in Discovery West neighborhood named Chawla Way, is the latest to join the list. 
Kaplana's husband of nearly 20 years, Jean-Pierre Harrison wrote a book about her life entitled, The Edge of Time: The Authoritative Biography of Kalpana Chawla. He believed that her story needed to be told as an example "of the success that can be earned from hard work and persistence" he said that "her life serves as an inspiration to Indian school children and youth who see themselves reflected in her." We offered to make a donation on her behalf to an appropriate charity and Jean-Pierre allowed us to select the World MUSE as the beneficiary.